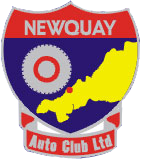 Born and bred in 1914...
Our home base is a little "village" in Cornwall called Newquay which is probably more familiar to holidaymakers and surfers than those interested in motor sport!
Newquay Auto Club was born in 1914 with the name "Newquay Motorcycle and Light Car Club."
In 1954 the Club changed its name to the more suited Newquay Motor Club, as the motor cycles had long gone.
Another name change occurred in 1974 when, like many other clubs, it incorporated and became the present "Newquay Auto Club Ltd."
In conjunction with three other motor clubs, Newquay Auto Club launch the Cornish Speed Championship promoting speed events in the County.