Remembering Kim Goostrey
A few words from Tucks, expressing the feelings of us all.
Kim loved motorsport whether it was on two or four wheels, modern or classic. He was a very active committee member of the Newquay Auto Club and could always be counted on during the setting-up and picking-up for the Clubs' events. He always enjoyed these occasions and loved a good chat afterwards.
Kim's photography at Cornish motorsport events is legendary. He was always at events early in the morning, camera around neck and chatting with his marshal mates, greeting arriving crews with that friendly smile and the customary "hello mate, how's it going".
On the track his action photography was second to none, with some stunning sequence shots of thrills and spills. However his real art was to capture people in and around the pits in their naturally relaxed environment, his photographs always catching something special and telling a story.
Kim's photography and his memory will always live on in Cornish motorsport.
Regards, Ian.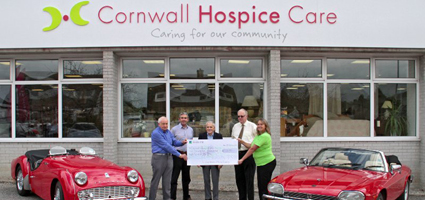 It has been hard finding photos of Kim as he was the one always taking them!
The image above was taken last Autumn at the Club's presentation to Cornwall Hospice Care. Kim is the person on the left. Funds raised were presented in memory of Kathy Goostrey, Kim's wife.