The Classic & Sports Tour of Cornwall 2015
in aid of…

The sun was shining …. admittedly between the clouds, but hey!
It all began when 32 beautiful beasts arrived at Victoria Inn, Roche to take up the Classic Tour challenge. Cups of coffee were consumed (not too many!) bonnets were lifted to air the contents and to make that last minute adjustment. I saw Gordon dusting his bonnet latch for example!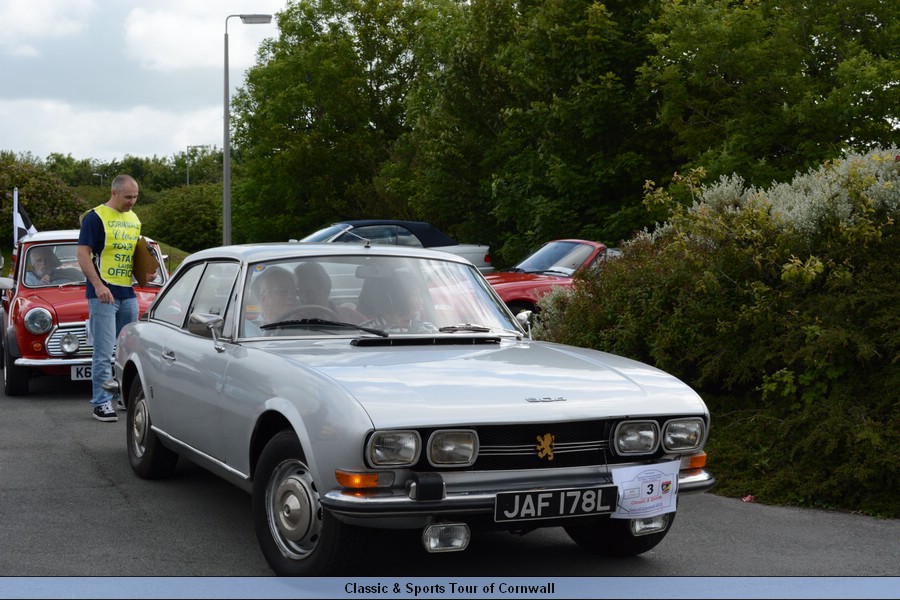 At 10:15 competitors lined up, anxious as to what was to come! Almost immediately the route dived in the undergrowth. Twists and turns, junction after junction soon had the navigators earning their lunch time roast. Withiel Goose Mill, Ruthernbridge, Polbrock soon bit the dust. Talking of dust, I wonder how Gordon was getting on!!

Competitors by now will have guessed they are heading north. Thirty four tulip diagrams later a bluer than blue sea showed itself at Fishermen's Friend country. The lovely cove of Port Gaverne soon followed before heading towards higher ground and the first passage control outside Poldark Inn near Delabole. David and Sheila checked everyone for size before asking them to move on!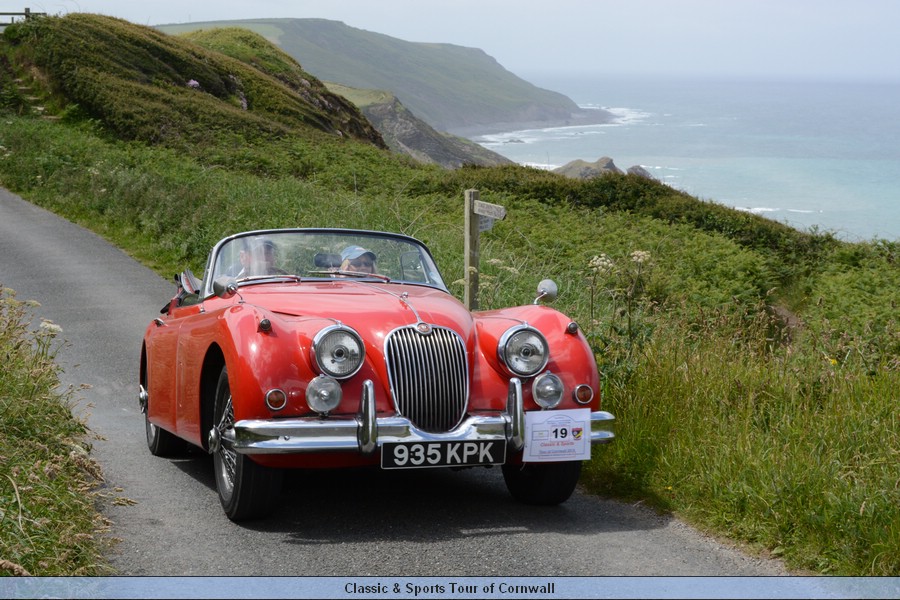 Just a little way down the road the farm entrance of Trecarne with its tree lined access will have greeted several Sporting Trial competitor over the years. Many have enjoyed trial sections on this cliff side venue. It also happens to be the home of a very good friend and National Sporting Trial Champion Roland Uglow.
By the way, if anyone is looking to build a garden wall with rustic Cornish Stone, Roland's your man!
Now the route became even tighter with added steep descents followed by equally stiff ascents. Names like Trebarwith, Tregatta passed by, until a signpost reading Tintagel gave one and all a main road to drive on! With busy Tintagel soon behind Boscastle was found layered with even more pairs of flip-flops. However that didn't stop the most important venture of the day!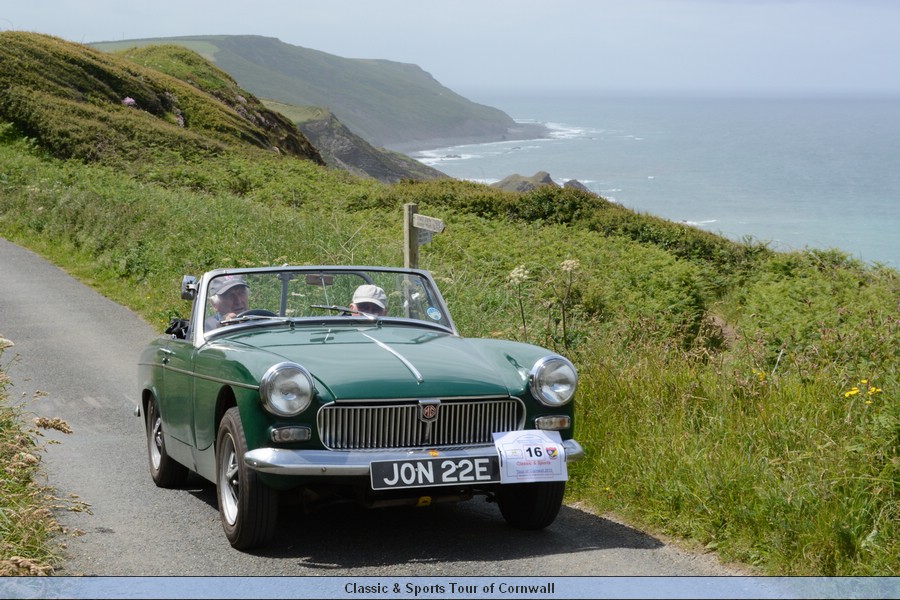 Tulip number 60 saw the beginning of one of the most beautiful roads we have in Cornwall. The sea views, the cove at Crackington Haven and more coastal delights leading all the way up to Widemouth Bay.
Phew! I think everyone deserved a pleasurable Sunday roast, and so we did. Our lunch halt was based at Widemouth Manor Hotel. What a delicious meal we had and a stunning view to compliment the nicely roasted potatoes! The new owners of the hotel had only just taken over, so even more credit to them for the hospitality we received. Thank you one and all.
After everyone was well fed and watered the tarmac beckoned. Heading inland, the route became fast and flowing. Top gear was in use much more frequently as the route turned south for the race home. Place names such as Titson, Whitstone, Petherwin Gate and Egloskerry were briefly visited before the terrain became less fertile as Davidstow airfield loomed into site. Not that the airfield is unfertile with all those sheep grazing etc! Sorry it's the farmer in me!
Did anyone see Mark at passage control 2, cause he was there, helping out at the last minute. Mark's the man who knows all about flat tyres. If rubber is what's needed for your wheels take a trip to Whitemoor. Service with a smile.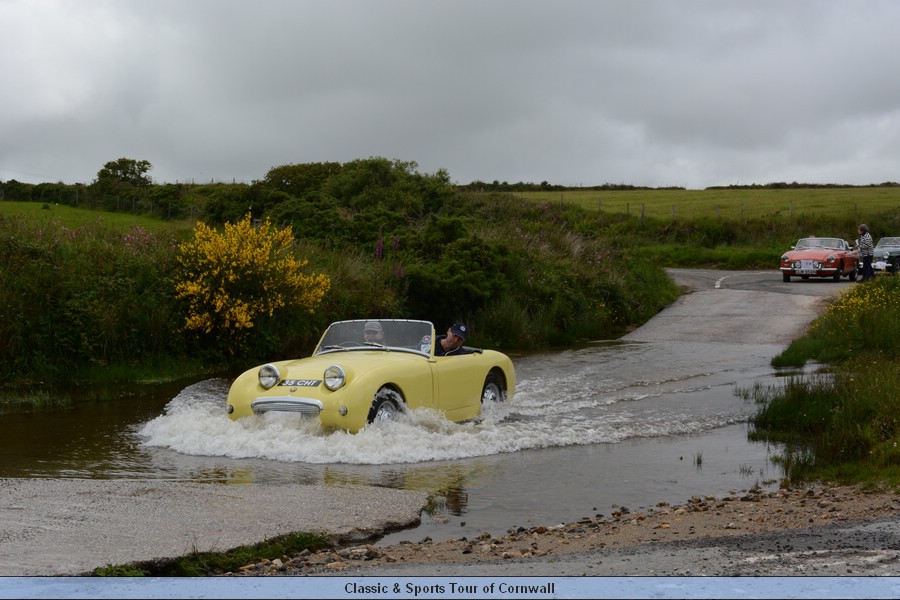 Soon after the passage control competitors experienced a dilemma. Is it the ford or the bridge!! It was decided to include this in the route partly to wash off any dust that might have accumulated on Gordon's Mini! It must have been appreciated as you will see when viewing the photos!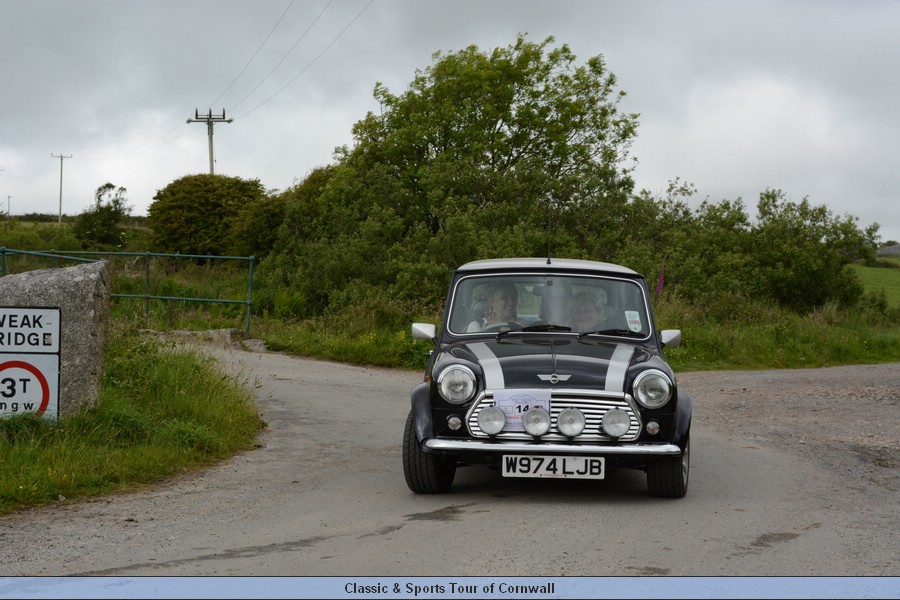 Can't be far to go now, but there's a sting in the tail …. Bodmin Moor! Roads have suddenly become tight and twisty again, the air is cooler, but still it's worth a visit just for the far reaching scenery. The idyllic spot of Delford took its claim to fame as these fabulous classics crossed over the heritage bridge. Suddenly ahead teems of traffic, something that hasn't been seen all day.
Never mind the finish is nigh …. and so as we pulled into Jamaica Inn a thought …. it's all over for another year. Shame!
Congratulations to the trophy winners and the hard work behind the scenes to produce such outstanding machinery. Presenting the awards this year was one of our very faithful sponsors.
Don Statton has supported the event and in turn the Hospice since the very beginning. What more can I say, except thanks Don.
After great deliberation the trophy winners were/are ….
Best 50's vehicle: (Mitchell & Webber Trophy) Will & Julia Schofield – Jaguar XK 150
Best 60's vehicle: (Lewis BMW Trophy) Julian Stephens – Triumph TR4a
Best 70's vehicle: (South Coast Trophy) Jerry Campion – MGB
Best 80's vehicle:  (Midland Bank Trophy) Diane Leake – BMW E30
Best 90's vehicle: (Bray Freeze Trophy) Roy Scaife – Mercedes 2 door Coupe
Best Sports Car: (Kessells Garage Trophy) John & Cathy Ferris – Triumph TR3a
Best Saloon Car:  (Lewis BMW Cup) Diane Osborne – Rover Mini Cooper
Best Concours Car: (Hester Leisure Trophy) Geoff Trewella – Jaguar XJS
Best Convertible: (Ryders Garage Trophy)
Overall winner of the Tregoning Trophy: Tony Eyles – Jaguar XK 150
Runner Up: (Modern Engravers Trophy) Simon Elks – Austin Healey Sprite
It just leaves me to give a big thanks to all who took part whether Organiser or competitor. For my part thanks must go to Keith, Peggy and Terry who with myself were the main partners in crime. To our judges Richard, Bill and Andrew. Marshals Fritz, David, Sheila, Mark, plus Jason and Jake (who scutineered and sent everyone on their way) and I think that's everyone …. famous last words!
To the competitors … thank you for entering and making this event so successful.
Last but not least to our sponsors, two of whom have supported the event since its inception, a huge thanks to you.
We haven't received all expenses yet, but we think at least £1500 has been raised for Cornwall Hospice Care, which is what it is all about.
The Hospice donation this year will be in remembrance of Paul Munro.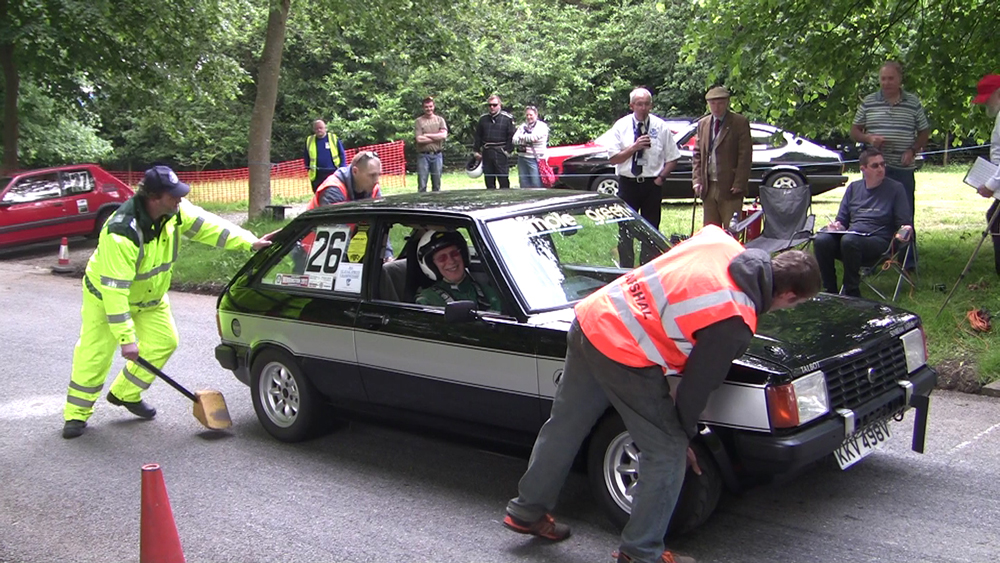 Paul will always be remembered as a gentleman of motor racing. Highly respected not just as a racing driver, but as a person. He regularly supported the Classic Tour as a helper and donating. Defying the doctors predictions for so long, he kept on working, racing and living. An example to us all.
Thank you all, see you next year.
Roger Woodley